What 45 Million Americans Have in Common: Food Stamps
May 23, 2014 by Helaine Geismar Katz
Part 1 of a Multi-Part Blog Series About Food Stamps
SNAP in a nutshell
SNAP (Supplemental Nutrition Assistance Program), commonly known as Food Stamps, is the government assistance program for our nation's poor. Benefits are earmarked ONLY for food — NOT beer, wine, liquor, cigarettes or tobacco, pet foods, household supplies, vitamins and medicines, or prepared foods.
The program costs about $80 billion a year, which amounts to roughly 2 percent of the federal budget. It is paid for entirely by the federal government, although administrative costs are shared by states. Congress reauthorizes funding for the program every five years.
About 95 percent of federal SNAP spending goes directly to benefits and the remaining covers services like employment and training that helps participants move from welfare to work; nutrition education that empowers individuals to make healthy choices on a limited budget; and federal oversight and trafficking prevention for the roughly 250,000 retailers that accept SNAP.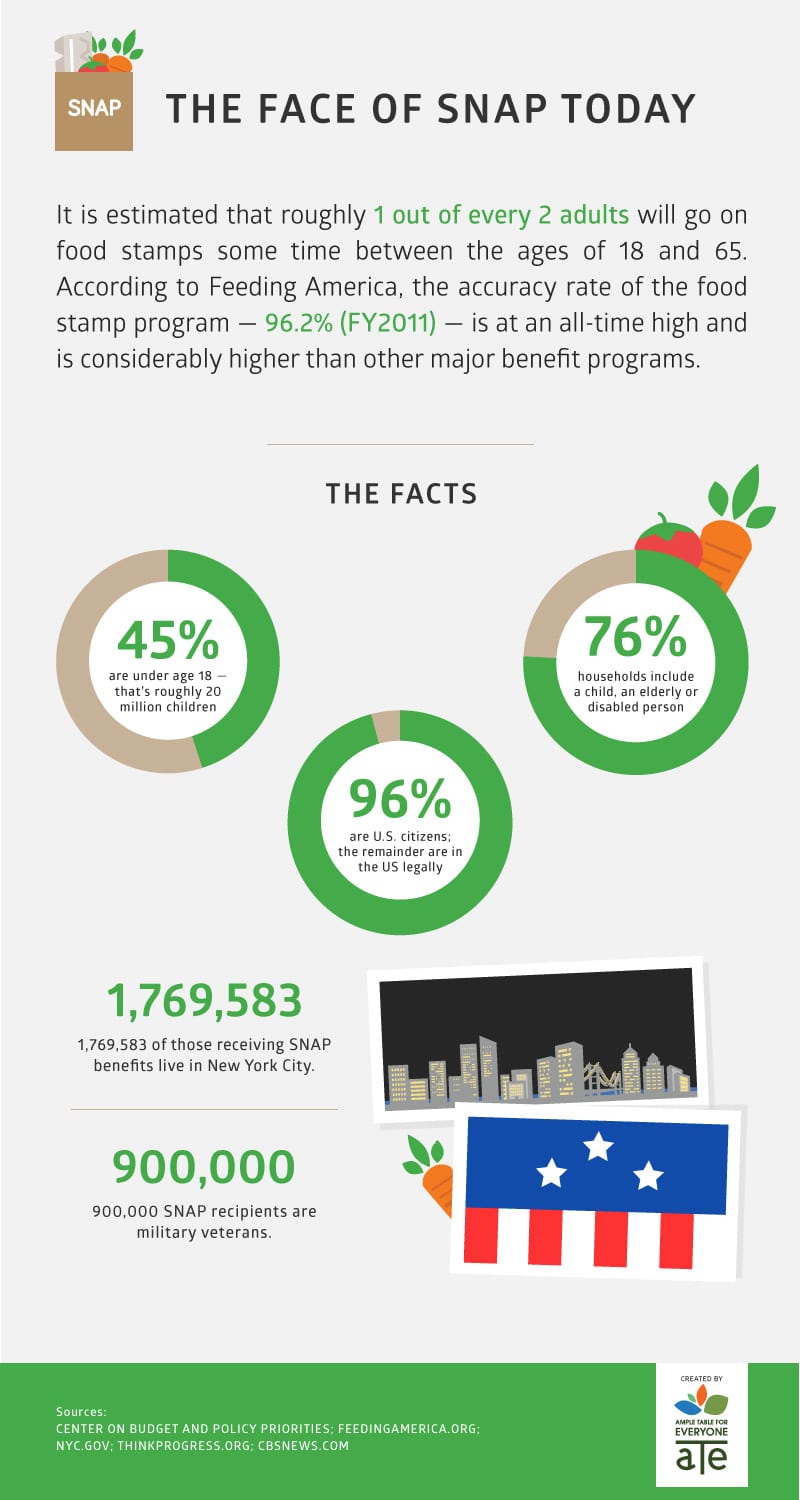 When earning an honest living just isn't enough: Qualifying for SNAP
To be eligible for food stamps, one's net income must be at the poverty level — $23,556 for a family of four. That family then receives $632 in food stamps per month or $1.75 per person per meal.
$1.75 per person per meal doesn't sound like a lot—especially in New York City!
It's not!  In fact, 90 percent of SNAP benefits are redeemed by the 3rd week of the month. That 4th week is very difficult. Some parents go without so their children can eat. Some children eat only part of their school lunch and bring the rest home to their families to share. They water down the milk so it will go farther.
Parents opt for cheaper, less healthy foods, which can lead to hunger and inattentiveness in school as well as obesity and diabetes.
Many turn to food banks for additional assistance. 58 percent of food pantry members who receive SNAP benefits turned to pantries at least six months last year. Food pantries are stretched to their limits. Following SNAP cuts in November 2013, nearly half of the 188 food banks and soup kitchens in New York City ran out of food.

We'll continue our in-depth discussion on Food Stamps next week. In the meantime, what meal could you make that would be nutritious, hopefully delicious, and cost $1.75… ?
---